Bring The Style Back With Eco-Friendly Prefab Houses
Construction at all times is a significant factor for any person, place, or country as it has a direct impact on the environment. But when we talk about construction, then the prefabricated house or pre-engineered buildings- it can be of any style and design without compromising the environment. All most all types of construction except it bring an impact on the environment. However, the effect of pollution in prefabricated construction is very less as compared to the other structures. This is the foremost reason why most people believe in this type of Eco-friendly prefab houses or mass constructions for both Government and private projects.
We at Afripanel, manufacturer of a wide range of prefabricated houses, prefabricated structures for clients. The Eco-friendly, hassle-free operations, excellent quality, style, and customized designing feature make the prefabricated house highly accessible and demanded in the market. The prefab houses we manufacture are genuinely durable and sturdily constructed to enhance the efficiency. All the customized or any other designs are planned under the close supervision of our experienced and creative professionals. Extensive levels of quality checks also back the prefabricated house we produce at our premises.
We are the leading manufacturer of prefab houses and use the supreme grade materials as per the conventional industry standards. Also, the materials are available in diverse specifications as per the specific needs of our clients. The raw materials we use are appreciated mainly for characteristics like negligible maintenance, heat and acid resistance and can be used in industrial sectors as well. The products we use to meet with international standards. All those are durable and used for sturdy a construction that enhances efficiency and style. Also, all the designs are prepared under the close supervision of our experienced and creative professionals.
The most crucial benefit of constructing a prefab house is that almost seventy-five percent of prefab houses have been built within our factory premises. We offer you an economical usage, easy to install, choice of different architecture styles as per your specification. If you plan to have a new home before New Year and celebrate the New Year's eve in your new home, you can consult us at any time. We can deal with your projects on a prima facie basis and take a few weeks and get your customized prefab house ready for your entry and New Year celebrations. We can make the entire thing available irrespective it is a single story or multi-story prefabricated houses. Rest assured that most of our prefab houses come with salient features like spacious interiors, proper ventilation, and user-friendly designing and longer operational life.
We are dedicated to our firm commitment to quality! We use a wide assortment of panels in our prefab house building projects that are cost-effective, highly durable, energy-efficient, and, most importantly, green building material. Sandwich panels are a prefabricated product which is used commonly in almost every type of construction (Commercial and residential) because of numerous advantages. These are suitable for small scale works and can be dismantled or assembled at the required locations very quickly. The offered prefabricated houses are ideal for both commercial and residential structures. Also, they are known for being rustproof, durable, robust, and have excellent thermal- acoustic resistance as well. The prefab houses we design also cater to all cooling requirements as well. The offered prefabricated houses are available at very cost-effective market rates as well.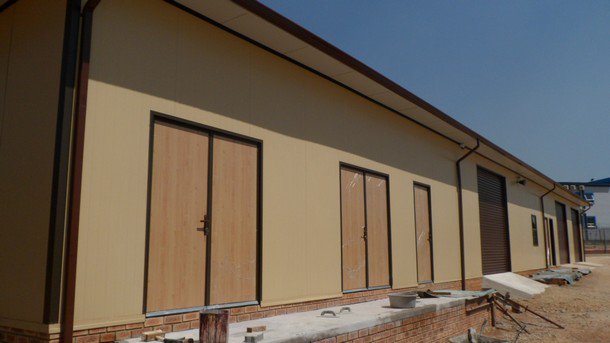 We operate from a very up-to-date manufacturing unit in South Africa. We also use the most advanced technology and modern construction processes to guarantee consistency and reliability for all our prefab house products. We own more extensive facilities, most qualified engineers, and technically sound workforce for manufacturing prefabricated houses. We are owing to the durability and high strength our products have a good demand in the market!